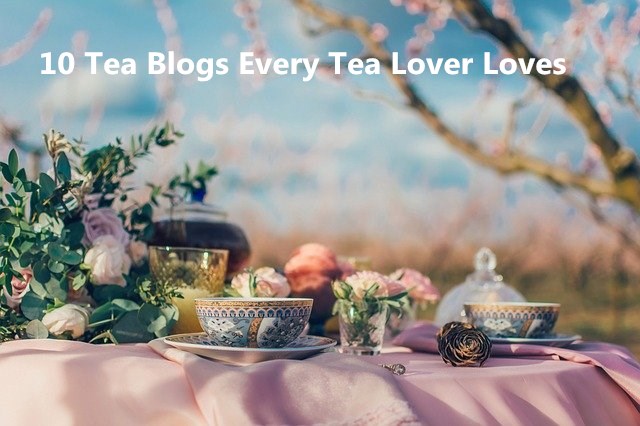 Whether you are a tea beginner or an experienced tea lover, at some point you want to communicate with tea friends or browse some tea-related information, then the following 10 blogs may be able to satisfy you.
All of them have their own unique angle, skills and attitude towards tea, focusing on a variety of tea topics from tea reviews, education to exciting tea recipes!
Of course, there are many blogs and forums about tea, I just picked a few. If you think there is a good blog, you might as well add it in the comments to let more people know.
1.Tea in spoons
About Blogger:
I'm Connie. My original Tumblr blog started in March 2015 as a result of my small obsession with loose leaf tea after trying DAVIDsTEA. With the various new teas I was tasting, I started to forget the ones I liked and those that I didn't. The blog was originally meant to index my short notes.
However, the blog soon grew, and in December 2016, I moved to WordPress to have the flexibility to write longer content. The goal and intention of this blog will always be about providing my honest opinions and thoughts.
2.The Tea Chest Blog
About Blogger:
I have a love for tea and all things tea; be it tea cups, tea pots, cosy's, the many wonderful types of tea, the medicinal benefits of tea, tea ceremonies and the traditions that envelope us and our love for tea. I would love to assist in building the tea culture by sharing my discoveries as I travel the world.
We are from New Zealand but currently living onboard our yacht in the Mediterranean. Follow our adventures and journey as I discover and share my passion for all things tea
3.Tea Foodie(a journal of tea-inspired recipes)
https://teafoodie.wordpress.com/
About Blogger:
Thanks for checking out my journal of cooking with tea recipes! I'm Suzanne Klein. Self-proclaimed foodie and tea geek. I love food and I love tea, so I've combined those passions here in this cooking with tea blog.
4.One More Steep
About Blogger:
I'm Michelle and One More Steep is my tea blog. I'm a self-proclaimed tea enthusiast and I'm all about sipping my way through every tea that comes my way.
5.The Oolong Drunk
https://www.theoolongdrunk.com/
About Blogger:
My name is Cody and I'm The Oolong Drunk! Oolong is my passion while puer is my obsession.
I call myself The Oolong Drunk because I easily become tea drunk while drinking puer and oolong teas. In fact, I originally got into tea with oolong, then dove right into puer! In my reviews and articles, I try to be as non-bias as possible with a tell-it-how-it-is attitude. With that, I'm on this tea journey that will never end and I hope you go on it with me.
6.Tea End
About Blogger:
what's up, tea sipping bookworms! I'm Gabie and you are visiting Tea End, my tea and book blog. I'm just a tea and literature enthusiast who really likes to talk and write about my sipping and reading experiences. My entire life is influenced by stories and steeps, all of which I share on Tea End. I hope you like books, tea, fashion, poetry, travel, and life because that's exactly what this blog is all about!
7.Life is a cup of tea
About Blogger:
I'm Stephanie, founder and voice behind Life's a Cup of Tea!
I'm a former Michigander who currently resides in the Chicago area. My day job (that I do at night) is newspaper design and editing for Chicago Tribune and company publications. I spend my free time tasting teas, caring for my baby, taking walks, reading books, writing things, going on adventures and playing with cats and pup.
I started this blog in 2013 as an excuse to buy and try more teas. It's grown into a platform for tea reviews, recipes and lifestyle posts, as well as being my little corner of the world where I can share my story.
8.It's More Than Tea
https://itsmorethantea.wordpress.com/
About Blogger:
I began in scientific research labs, then moved to editing and publishing scholarly monographs, all the while drinking tea. Eventually my love of tea and my love of research collided and here I am, working at TeaHaus in Ann Arbor, Michigan, while delving into all things tea!
And so, my research- and science-based background along with Lisa's expertise as European-trained tea sommelier (and founder/owner of TeaHaus and Eat More Tea) will inform our odyssey together.
And because it's always more than tea, I hope that you too will have fun discovering how this one plant has changed—and continues to impact—our world.
9.The cup of life
About Blogger:
I'm Lu Ann Pannunzio, tea enthusiast + writer and of course, the blogger behind The Cup of Life tea blog. I'm also the author of the book Tea-spiration: Inspirational Words for Tea Lovers (November 2016).
I have been a self proclaimed "teaaholic" since I was about 7 years old. It all started with a cute, little wooden box that contained strawberry flavoured tea bags. As most can imagine, it was hard to stay away after just one sip.
10.sorori tea sisters
http://www.sororiteasisters.com/
About Blogger:
Our mutual love for tea and writing about it inspired us to start this blog so that we could better share this love with others.
One thing I (Anne) learned very early on in my career as a tea artist is that everyone has different preferences, and every single tea tastes differently on every single palate. So just because one of us doesn't happen to like a tea, doesn't mean that YOU (the reader) will not.
We try to be as impartial as we can. We do have our favorites. We are human. But we do our very best to be as fair and as honest about a tea as we can be.
You might not agree with our assessment of a certain tea. . .but that's OK… if we all liked the same exact tea – we'd only need ONE kind of tea and … wow… that sounds really boring, indeed!
There is also a famous forum with many tea lovers. There may be someone here to answer your questions about tea.